"Shear Brilliance" Grilled Shrimp Salad
Snip your way to quick and easy kitchen prep with your everyday kitchen shears.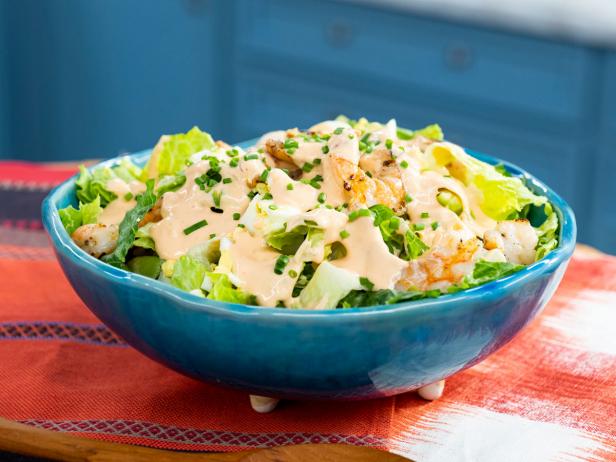 Kitchen shears are one of the most useful tools in the utensil drawer. Not only can you can use them to break down poultry, but you can also use them to prep veggies, herbs and other proteins.
Peeling and deveining shell-on shrimp with shears is super simple. You'll need a set of good kitchen shears. The best ones have blades that come apart at the hinge for easy clean up. You'll also need a paper towel.
Grip the shrimp by all of its legs in your non-dominant hand. Open the scissors and carefully slide the bottom blade below the shell on the back of the shrimp from the head end. Snip the shell to the tail and expose the "vein" (digestive tract). You can now lay it directly onto the paper towel and gently scrape out the vein using the tip of the blades. The messy part will stick to the towel.
Once it's clean, you can peel the shrimp by opening the shell from the incision and removing the shell and legs all at once. You can leave the tail intact for dishes like shrimp cocktail or pull it off with the rest of the shell for sauteing and grilling for salads.
Not only do we use our shears to devein shrimp, but we also use them to chop up lettuce and hard-boiled eggs and mince chives. You can grill up the shrimp and throw all of these things together for one killer "Shear Brilliance" Grilled Shrimp Salad. We love a tart and creamy Quick Yogurt Sriracha Dressing, but you can use your fave!